Closures and service changes tested for the 2022 IIHF Ice Hockey World Championship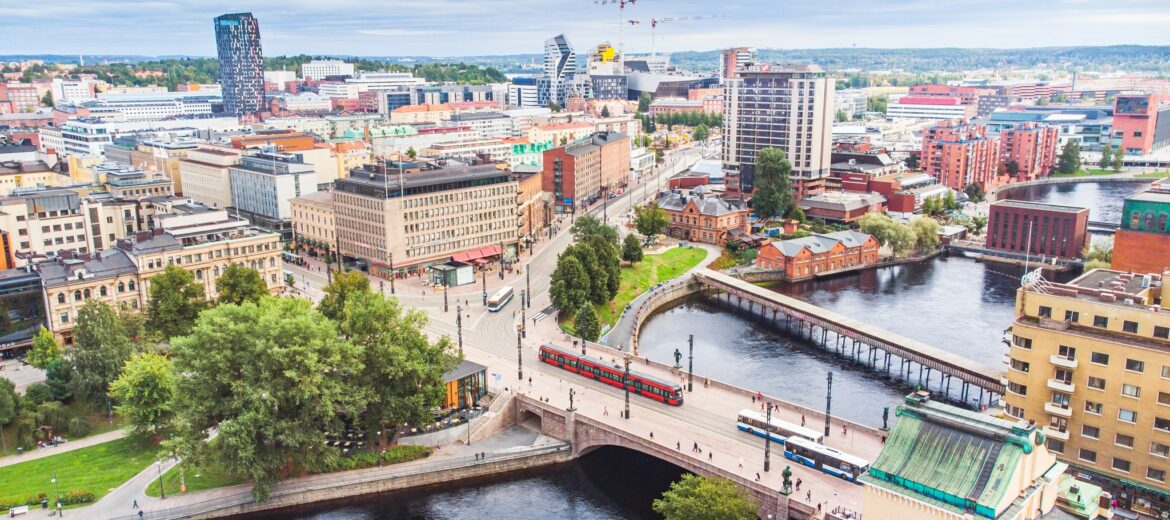 The 2022 IIHF Ice Hockey World Championship Group B games as well as the final games will be played at Nokia Arena from 13 to 29 May 2022. Temporary traffic arrangements are partially in use at League play-offs starting on March 27, and other events at the Arena before the IIHF Ice hockey World Championship. Large audiences are expected to all events, and to be able to produce a safe event, special arrangements for motor vehicles are needed both in the vicinity of the Arena as well as Ratina and Kyttälä areas.
The intersection of Vuolteenkatu and Hatanpään valtatie from the Ratina direction will be closed. Tampereen valtatie and Hatanpään valtatie to the Sorinsilta bridge in front of the Arena, Kalevantie and Sorinkatu will be closed to motor vehicles. Motor vehicles going to Rautatienkatu can take Suvantokatu or Verkatehtaankatu.
The crossroads Suvantokatu and Rautatienkatu from the railway station will be closed. Motor vehicles should avoid the routes to the Arena from the railway station or Hämeenkatu although the connection via narrow Otavalankatu is possible, Aleksanterinkatu works as an exceptional route for buses. Turning from Suvantokatu is allowed only in the direction of the railway station.
Driving from the University to Vuolteenkatu and Rautatienkatu is prohibited. The traffic from Kalevantie is directed via Kanslerinrinne to Ratapihankatu. Motor vehicles are recommended to take the alternative route via Salhojankatu and Viinikankatu to the Viinikka intersection. When driving in Ratapihankatu, turning to the Kaleva direction only is allowed.
Driving in Sorinkatu is restricted from the Tampereen valtatie intersection onwards. The actual closure will be at Kansikuja. Residents and maintenance are allowed in the area. In Sorinkatu there will be traffic guides.
Taxis for visitors using wheelchair can take their customers to a special entrance that may be closed at times, however. The entrance will be close to elevators. In Sorinkatu and in the neighbouring parking house, there will be a limited number of parking spaces reserved for visitors with disabled parking permit. Parking and driving in Sorinkatu will be restricted to safeguard possible police actions.
Tuomiokirkonkatu street in front of Sorinaukio square will be closed for motor vehicles, and only driving to properties and their parking spaces is allowed.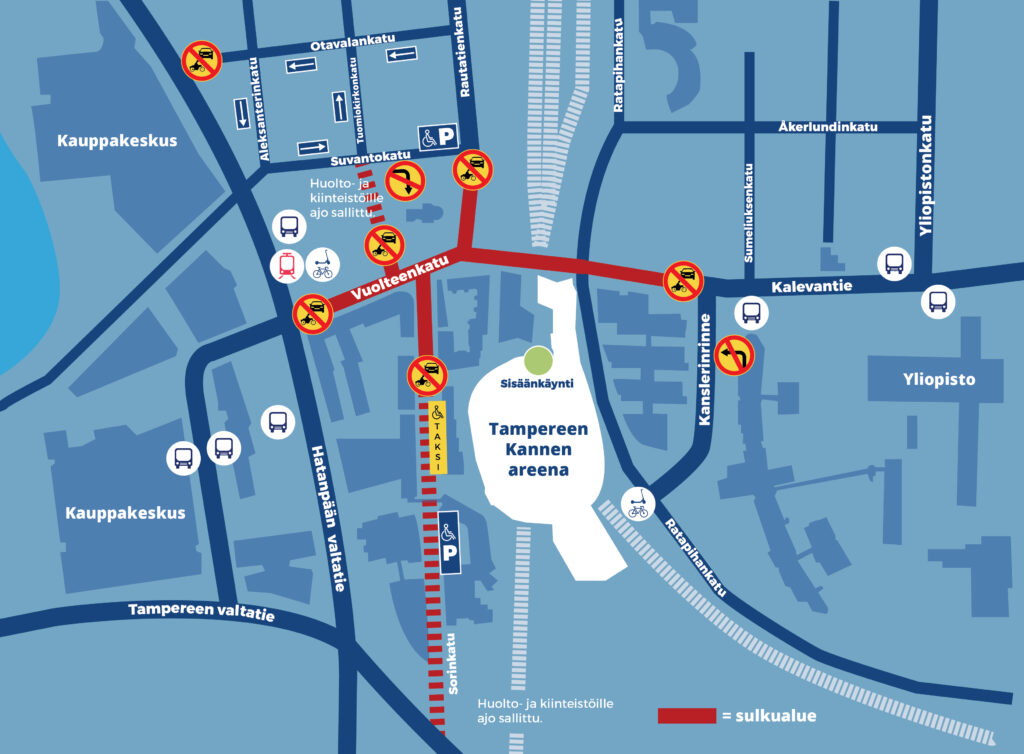 Preparations for the closure of the streets will begin according to the following timetable during the IIHF Ice Hockey World Championship. The closure is valid for the hours given.
Friday May 13, 11.30 am till midnight
Saturday – Sunday May 14-15, 10 am till midnight
Monday – Friday May 16-20, 2 pm till midnight
Saturday May 21, 10 am till midnight
Sunday – Monday May 22-23, 2 pm till midnight
Tuesday May 24, 10 am till midnight
Thursday May 26, 11.30 am till midnight
Saturday – Sunday May 28-29, 10 am till midnight
Buses will take alternative routes during the closures. For more information on alternative routes, see https://www.nysse.fi/en/disruptions/special-routes.html
For more information
The City of Tampere
Road engineer Marko Korpela 050 559 3874
marko.korpela@tampere.fi