This page contains information on the sustainability acts for the 2022 IIHF Ice Hockey World Championship from 13 to 29 May 2022.
Sustainability
Sustainability is one of the core values of 2022 IIHF Ice Hockey World Championship in Tampere and Helsinki in May.
City of Tampere is committed to United Nations Sustainable Development Goals and aims at organizing sustainable World Championships together with the International Ice Hockey Federation.
-The City of Tampere has committed itself to promoting sustainable development, which is why we want to take environmental issues into account when organizing events. It is important for us to consider equality and environmental issues and we want our actions to be sustainable and show that we care, says Anna-Kaisa Ikonen, Mayor of Tampere.
Free public transport with the game ticket
The City of Tampere encourages the tournament visitors to make sustainable choices during their stay and has included free public transport to the game ticket. Everyone who has a day ticket to the games played in Tampere can use Tampere Regional Transport for free on the day of the game.
-One of the values of 2022 IIHF Ice Hockey World Championship is sustainability. This is a substantial sustainability act from the City of Tampere., states Heikki Hietanen, General Secretary of 2022 IIHF Ice Hockey World Championship.
Tampere Regional Transport (Nysse) and Finnish State Railways (VR) make it possible for people to use their game tickets on buses, trams and even local trains between Nokia/Lempäälä/Orivesi/Tesoma and Tampere.
Visitors coming from further away can park and ride; they can leave their car in one of the free car parks and combine the right to travel free on the bus and tram with the game ticket. There are some car parks in e. g. Niihama, Kaukajärvi, Koivistonkylä, Tesoma and Turtola in Tampere.
-By combining the game ticket with the bus or tram ticket, we give an important example of sustainability. When people notice how easy and convenient it is to use bus or tram in Tampere Region, they surely want to use public transport again, states Mika Periviita, Director of Public Transport in Tampere.
Carbon-neutral travel destination 2030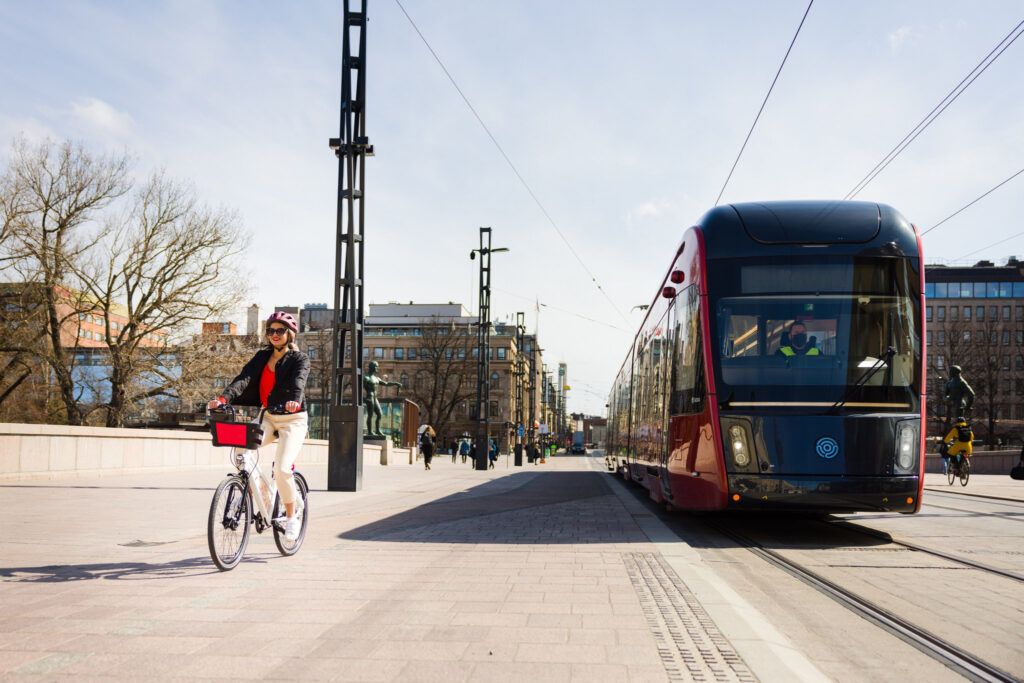 Combining free public transport to World Championships game tickets supports the goal of the Tampere Region to be a carbon-neutral travel destination by 2030.
Major tourism operators in Tampere Region, like hotels, theme park Särkänniemi, Tampere Hall and the new Nokia Arena are forerunners of sustainable services.
By co-operating, we can make Tampere and the whole region a destination of carbon-neutral visits, says Matti Pollari, Project Manager of Sustainable Tourism Development at Visit Tampere.
The World Championship visitors can pay attention especially to sustainable mobility when arriving in Tampere and during their stay:
Choose public transport when travelling to Tampere. Railway station, bus station and most hotels are only a short walk away from Nokia Arena.
Use public transport, bicycle or walk when moving from one place to another in Tampere. With a game ticket you can use public transport (bus, tram, commuter train) on the day of the game for free.
It's easy to find public transport routes online: https://www.nysse.fi/en. There is also a downloadable Nysse app for your phone, as well as Tampere.Finland application including timetables and routes, among other information.
Tampere city bikes are an easy and affordable way of moving around in Tampere during your stay. To be able to use the city bikes, you need the Tampere city bikes app.
Use Think sustainably service as your guide to sustainable choices during your visit in Tampere.
Match tickets for targeted groups
City of Tampere has worked actively in recent years to promote equality both locally and internationally. Equal individuals is also one of the main focus areas of Tampere's new City of Action city strategy.
During the 2022 IIHF Ice Hockey World Championships, the City of Tampere offers 6700 match tickets to targeted groups, who would otherwise find it challenging to attend the event.
Tickets are offered to schoolchildren and young people, as well as customers of social and healthcare services and elderly residents through city's different services and programmes.
– We want to make this unique experience accessible for as many residents as possible. The historical IIHF World Championship is an event for the whole city, states Mayor of Tampere Anna-Kaisa Ikonen.